Comparaison qualitative des comportements aérauliques d'un aérateur entre des mesures en site expérimental et son modèle numérique
Natural ventilation represents nowadays an efficient solution for night cooling in summer and in midseason but one of his main problems is the acoustic discomfort it can generate. That is why, some companies currently develops aerators, which avoid this problem while increasing indoor air quality and providing good thermal cooling. In a way to improve these products, a test of these aerators have been realised in an experimental house for analysing their passive thermal cooling potential. Moreover, a numerical EnergyPlus model built with DesignBuilder allows us to analyse benefits brought by aerators for improvement of indoor air quality. Finally, a manual calibration of this model about aerators' discharge coefficient has been made based on qualitative comparison between simulations and measures for consolidate experimental and numerical results.
La ventilation naturelle représente aujourd█hui une solution efficace pour le rafraîchissement nocturne en été et en mi-saison mais un de ses principaux problèmes reste l█inconfort acoustique qu█elle peut générer. C█est pourquoi, des industriels développent aujourd█hui des aérateurs qui permettent d'éviter ce problème tout en augmentant la qualité de l█air intérieur et en garantissant un bon rafraîchissement thermique. Dans une démarche d█amélioration de ces produits, un test de ces aérateurs a été réalisé dans une maison expérimentale afin d█analyser leur potentiel de rafraîchissement passif. De même, un modèle numérique EnergyPlus de la maison construit sous DesignBuilder nous a permis d█analyser les bénéfices que peuvent apporter ces aérateurs en terme de qualité de l█air intérieur. Enfin, un calibrage manuel de ce modèle sur le coefficient de décharge des aérateurs a été effectué en se basant sur une comparaison qualitative entre simulations et mesures afin de consolider les résultats obtenus expérimentalement et numériquement.
Fichier principal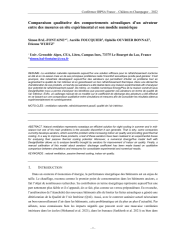 bal-fontaine-comparaison_qualitative_des_comportements_arauliques_dun_arateur_entre_des_mesures_en_site_exp.pdf (693.53 Ko)
Télécharger le fichier
Origin : Files produced by the author(s)