Banc de qualification pour une application de la méthode simplifiée d'analyse du risque de liquéfaction des sols à partir des essais in situ SPT et CPT
Soil liquefaction triggering during earthquakes is usually evaluated by the SPT or CPT based simplified method. This method, first proposed by Seed and Idriss in 1971, allows evaluating the factor of safety against liquefaction. Several states of the art have been published over the years, the later being at the NCEER' 1997 workshop (Youd et al., 2001). Practical utilisation of this state of the art provides results that are user-dependant. Whereas all the questions raised by the NCEER's practical utilisation are not exhaustively addressed in this paper, it has being found interesting to share the current practices. This paper provides the results of two benchmarks that put into practice the SPT and CPT based simplified method.
Dans la pratique courante, la quantification du risque de liquéfaction des sols sous l'effet de séismes passe par l'utilisation de la méthode simplifiée appliquée aux essais in situ de type SPT ou CPT. Initialement proposée par Seed et Idriss en 1971, cette méthode permet d'estimer des coefficients de sécurité vis-à-vis de ce risque (F Sl). La méthode a fait l'objet d'états de l'art successifs dont le dernier a été établi par le NCEER lors d'un colloque en 1997 (Youd et al., 2001). Si la démarche empirique est largement acceptée, certains détails de sa mise en oeuvre pratique font débat, laissant à l'utilisateur l'initiative d'une interprétation. A défaut de résoudre toutes les indéterminations, il est apparu important de fiabiliser la progression des calculs des coefficients F sl à partir des données in-situ SPT et CTP. Dans ce but, un banc de qualification des options de calcul a été mis en partage entre utilisateurs pour aboutir à des recommandations de mise en oeuvre de la méthode simplifiée.
Fichier principal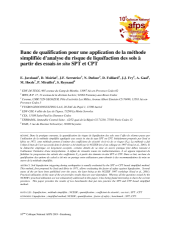 JAVELAUD.E-ET-AL-01-AFPS19.PDF (236.39 Ko)
Télécharger le fichier
Origin : Files produced by the author(s)