Benchmark SMART 2013 : enseignements sur les indicateurs d'endommagement pour les bâtiments en béton armé au-delà du niveau de dimensionnement
Over the period 2012-2014, the French Alternative Energies and Atomic Energy Commission (CEA) and Electricité de France (EDF) organized the research program called SMART 2013. During this project, an international benchmark highlighted the ability of numerical models to reproduce the behavior of an asymmetrical reinforced concrete structure which is submitted to severe seismic loads and sensitive to torsion effects. The levels of damage resulting from the experimentations and the numerical modeling have been especially compared to using two indicators: (1) the maximum inter-story drift and (2) the peak frequency shift calculated to the first peak of floor response spectra at the most exiting point. The first indicator defines a local damage while the second one represents an overall structural damage. The results underlined the ability of two indicators, global or local, to describe the experimental behavior. However, the damage thresholds characterizing the structural state reached by these indicators may be sometimes different. Then, one of the conclusions of SMART 2013 is the difficulty to choose the most relevant and meaningful indicator and the corresponding thresholds for estimating the structural state.
Sur la période 2012-2014, le Commissariat à l'Energie Atomique et aux Energies Alternatives (CEA) et Electricité De France (EDF) ont organisé le programme de recherche SMART 2013. Au cours de celui-ci, un benchmark international a mis en évidence la capacité des modèles numériques à reproduire le comportement d'une structure en béton armé asymétrique et sensible aux effets de torsion, sous chargements sismiques sévères. Le niveau d'endommagement de la maquette expérimentale et celui issu des modèles numériques ont notamment été comparé à l'aide de deux indicateurs : (1) le déplacement inter-étages maximal et (2) la chute de fréquence calculée au premier pic du spectre de plancher du point le plus excité. Le premier indicateur caractérise un endommagement local tandis que le second représente un endommagement global de la structure. Les résultats ont souligné la capacité des deux indicateurs, globaux ou locaux, à transcrire les comportements expérimentaux. Néanmoins, les seuils d'endommagement caractérisant l'état structural atteints par ces indicateurs sont parfois différents. L'une des conclusions du benchmark SMART 2013 est la difficulté de choisir un indicateur adapté à la structure ainsi que les seuils associés afin de conclure sur son état résiduel.
Fichier principal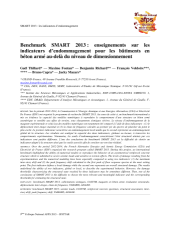 201500003281.pdf (754.61 Ko)
Télécharger le fichier
Origin : Files produced by the author(s)