Une nouvelle loi constitutive pour la description du comportement cyclique des materiaux quasi-fragiles: effet unilatéral régularisé et effets hystérétiques
A continuum model for quasi-brittle materials able to reproduce mechanical phenomena related to cyclic loading is proposed. A virtual testing approach is set up to analyze the evolution of microscopic quantities during uniaxial cyclic tests and justify an original and efficient modeling of these phenomena. Thus, a regularized formulation of the homogenized multiple contact problem induced by the non-simultaneous closure of microscopic cracks is proposed. The proposed continuum model is validated by means of member-scale simulations of alternately loaded reinforced concrete shear wall.
Une nouvelle loi de comportement visant à étudier le comportement du béton sous chargement cyclique est proposée. La formulation de la loi repose en partie sur une approche par expérimentation numérique à l'aide d'un modèle de type lattice. Ainsi, une prise en compte de l'effet unilatéral régularisé est proposée afin de d´écrire le phénomène de re-fermeture progressif des fissures. La loi de comportement développée a été validée à l'échelle de la structure sur le cas d'un voile en béton armé sous chargement cyclique.
Fichier principal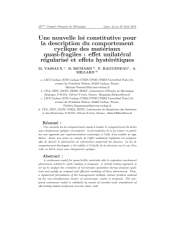 201500001866.pdf (947.97 Ko)
Télécharger le fichier
Origin : Files produced by the author(s)