Vulnérabilité sismique des structures en maçonnerie : Analyse et exemples d'intervention sur des cas réels
The seismic repositioning in the European regions is one the most important aspect introduced with the regulations entered in force. In Italy, the P.C.M 32274/203 law imposes the earthquake-proof design for the whole historical buildings and monuments that are built in the country. Most of them are composed by a masonry supporting structure. A lot of these structures are constructed before the first regulation concerning the earthquake safety (ministerial decree 5.03.1984). Thus, the renovation of the existing building will be a critical topic in the future. In this paper we discuss a case study in order to describe the set of the required stages that is necessary for knowing, understanding, modelling and improving the historical buildings erected using a masonry supporting structure.
Le reclassement sismique des bâtiments à l'intérieur du territoire européen est l'un des aspects les plus importants introduits dans les normes en vigueur. En Italie, avec la loi P.C.M. 3274/2003, la nécessité d'appliquer les principes parasismiques à tous les bâtiments et ouvrages d'art présents sur le territoire national a été imposée. Une grande partie du patrimoine italien bâti (y compris les bâtiments et ouvrages stratégiques) possède une structure porteuse en maçonnerie. La majorité de ces constructions a été bâtie avant l'introduction du premier zonage sismique (Regio Decreto n.193 18.04.1909) et l'approche semi-probabiliste (Arrêté ministériel 5.03.1984). La tendance naturelle consistera donc à réhabiliter le patrimoine existant et la problématique de la vulnérabilité sismique des structures en maçonnerie deviendra fondamentale. Dans cet article, un cas d'étude est présenté afin d'illustrer les étapes que l'ingénieur doit nécessairement respecter afin de connaître, comprendre, modéliser et améliorer le comportement d'un bâtiment en maçonnerie ancienne.
Fichier principal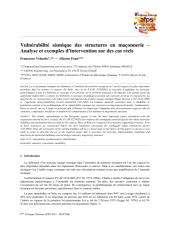 201500002726.pdf (1.5 Mo)
Télécharger le fichier
Origin : Files produced by the author(s)