Etude de sensibilité sur la réponse d'un bâtiment réacteur enfonce par rapport à différentes conditions de souplesse de la fondation
The behaviour of embedded structures is already known in the Soil-Structure Interaction (SSI) field. Several studies have shown the attenuation effect on the system response and the modification of the foundation input motion due to kinematic interaction. In general, one of the most important hypotheses is to consider the system foundation as rigid. In France, nuclear power plants are often founded on shallow configurations. Moreover, regarding the size of this kind of structures, this assumption seems to be appropriate. However, under certain conditions, the stiffness of the foundation (in particular the basemat) could strongly influence the system response. In order to study the response of a soil-structure system for different embedded configurations under several foundation stiffness assumptions, a parametrical study has been carried out.
Le comportement des structures enfoncées dans la problématique d'Interaction Sol-Structure (ISS) est bien connu dans la littérature. Des études ont mis en évidence l'effet de la dé-amplification de la réponse de la structure et de la modification du mouvement de fondation induite par l'interaction cinématique. En général, dans ce type d'étude, une des hypothèses utilisées est de considérer la fondation infiniment rigide. En France, les bâtiments de réacteur nucléaire présentent des configurations peu enfoncées. De plus, si on considère la taille de ce type de structure, l'utilisation de l'hypothèse d'interface rigide reste assez pertinente. Cependant, sous certaines conditions la rigidité de la fondation et, notamment du radier, peut influencer la réponse du système. Une étude paramétrique a été conduite afin d'étudier la réponse du système sol-structure dans différentes configurations enfoncées et selon plusieurs hypothèses de flexibilité du système de fondation.
Fichier principal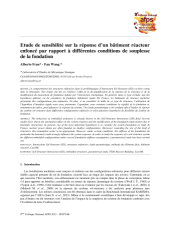 201500002671.pdf (1.96 Mo)
Télécharger le fichier
Origin : Files produced by the author(s)