Ad-hoc links in cellular networks for public safety communications
Cellular networks are evolving to an increasing number of applications ranging from simple voice calls to video streaming and data transfer. Recently, it has been suggested to extend theses networks to short range communications using device to device links. The aim of such type of operation is to alleviate the data traffic load on cellular networks, and also to provide an alternative option for public safety communications. This paper presents an overview of the potential applications of device to device links in cellular networks and also presents the technical challenges and the potential solutions to implement this feature in near future standards.
Les réseaux cellulaires subissent une augmentation rapide des demandes en termes de débit et de qualité de service. Pour soulager les contraintes sur ces réseaux, des communications autorisant les connections pair à pair entre des terminaux situés dans la même cellule ou dans des cellules voisines ont été proposées récemment. Ces communications qui sont sous le contrôle de l'opérateur du réseau cellulaire vont permettre d'offrir des services mobiles à proximité des utilisateurs tout en allégeant la charge sur le réseau principal. Ces nouveaux modes de communication peuvent aussi être étendus vers des communications ad-hoc qui pourraient servir pour les services de sûreté publique dans les scénarios de crises. Cet article présente les cas d'usage des communications pair à pair dans les réseaux cellulaires ainsi que les moyens d'implémentation de ce mode de communication dans les futurs réseaux LTE.
Fichier principal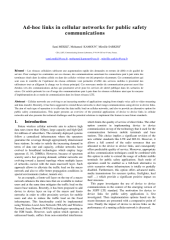 Mekki2013.pdf (417.46 Ko)
Télécharger le fichier
Origin : Files produced by the author(s)