Large scale EV charge scheduling under contractual power constraints: a priority rule-based semi-online algorithm
The scope of this research work is to study the implementation of Electric Vehicles (EVs) based Virtual Power Plants (VPPs) through optimized charging process of a fleet of vehicles spread over multiple charging stations. In this context, this paper focuses on smart charge scheduling for an ensemble of EVs operated by a fleet manager. We consider a semi-online setting where precise information about EVs' arrival times, parking durations and energy needs isn't available before the EVs' connection to the charge spots ; only global statistics (computed at the fleet level) for these quantities are made available beforehand. In this context we propose, as a first step, to learn a priority function to be used in a second step to perform online scheduling for forthcoming EVs' requiring a charging service, according to a "highest priority, processing first" scheme. As we ignore most about the shape of the priority function, we propose to learn this function in an offline way as a function of charging information collected from the EV fleet and consolidated in a historical database.
L'objectif des travaux présentés dans cet article est d'étudier la faisabilité d'une centrale électrique virtuelle basée sur l'optimisation des processus de (dé)charge d'une flotte de Véhicules Electriques (VE). Cet article porte plus précisément sur l'optimisation et la planification des processus de charge pour une flotte de VE. Nous nous plaçons dans un contexte semi temps réel, où les informations relatives à l'heure d'arrivée des VE, leurs temps de stationnement ou encore leurs besoin en énergie ne sont connues que lors de la connexion du VE à la borne de recharge. Avant cet instant, nous ne disposons que d'une statistique globale (calculée à l'échelle de la flotte) relative à ces quantités. Dans ce cadre, nous proposons d'abord d'apprendre une règle de priorité, et de l'utiliser ensuite pour la planification en temps réel des processus de charge des VE, en favorisant la charge des véhicules prioritaires. La règle de priorité, inconnue a priori, est modélisée en mode hors-ligne à partir de l'historique des données de charge de la flotte, agrégée par leur gestionnaire de flotte.
Fichier principal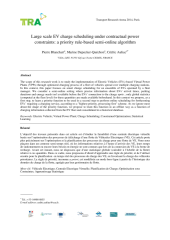 a27cb4aa8a97b984f49aed2a2415bf127154.pdf (734.86 Ko)
Télécharger le fichier
Origin : Files produced by the author(s)