Restaurer la vision de patients aveugles avec des prothèses rétiniennes : Résultats cliniques et défis futurs
Restoring vision in blind patients following photoreceptor degeneration: clinical results and future challenges. Retinal prostheses aim at restoring vision in patients blind from photoreceptor degeneration by electrically stimulating the residual retinal tissue. Currently, the most efficient implants are either inserted in the subretinal space or on the vitreal side of the retina (epi-retinal). Although the residual tissue can partly degenerate, it was shown that acute stimulation of residual neurones can induce visual percepts. Recently, a clinical trial with the epiretinal Argus2 device (60 electrodes) from the company 2nd Sight enabled most patients to orient and find light targets, some even reading words. This device has received a CE mark. Surprisingly, when the subretinal implant from the company Retina Implant AG displaying many more electrodes (1500 electrodes) was evaluated in clinical trials, the patient visual performances were fairly similar. The restored visual performances of the patients demonstrate that blind patients can recover some visual function when their residual retina is properly stimulated. However, the resolution is not yet sufficient to perform complex tasks such as autonomous locomotion, face identification or text reading. Several challenges remain to generate an increase in pixel density corresponding to the increase in electrode number and density. These challenges include the stimulation modality, the tissue/implant interface design, the electrode materials, and the visual information encoder. This review will discuss these great challenges after introducing the major clinical results.
Les prothèses rétiniennes visent à restaurer une fonction visuelle utile chez des patients devenus aveugles par suite de la perte de leurs photorécepteurs. Les essais cliniques récents ont démontré la faisabilité de cette approche. Malgré un nombre limité d'électrodes (60) et donc à fortiori de pixels, certains patients sont en effet capables de lire des mots ou de reconnaître des objets très contrastés. Ces résultats soulèvent de nouveaux défis pour augmenter le nombre et la densité des électrodes afin d'améliorer l'acuité visuelle des patients pour autoriser des tâches complexes comme la locomotion autonome ou la reconnaissance des visages. Cette revue présente les résultats des essais cliniques sur les dispositifs les plus avancés puis les défis et solutions envisagées.
Fichier principal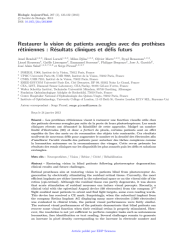 article AmelBendali.pdf (2.34 Mo)
Télécharger le fichier
Origin : Files produced by the author(s)