Review of Actinide Decorporation with Chelating Agents
In case of accidental release of radionuclides in a nuclear facility or in the environment, internal contamination (inhalation, in-gestion or wound) with actinides represents a severe health risk to human beings. It is therefore important to provide effective che-lation therapy or decorporation to reduce acute radiation damage, chemical toxicity, and late radiation effects. Speciation governs bioavailability and toxicity of elements and it is a prerequisite tool for the design and success of new ligands or chelating agents. The purpose of this review is to present the state-of-the-art of actinide decorporation within biological media, to recall briefly actinide metabolism, to list the basic constraints of actinideeligand for development, to describe main tools developed and used for decorporation studies, to review mainly the chelating agents tested for actinides, and finally to conclude on the future trends in this field. To cite this article: E ´. Ansoborlo et al., C. R. Chimie X 33 (2007). Ó 2007 Académie des sciences. Published by Elsevier Masson SAS. All rights reserved.
En cas de rejet accidentel de radionucléides dans une installation nucléaire ou dans l'environnement, il existe un risque de contamination interne (inhalation, ingestion ou blessure) pour l'homme et il est important de pouvoir fournir un traitement thérapeutique par des agents chélatants ou décorporation permettant de réduire la dose, la toxicité chimique et les effets retardés des radiations. La spéciation domine la biodisponibilité et la toxicité des éléments et représente un outil indispensable pour la conception et l'efficacité de nouveaux ligands ou chélatants. Le but de cet article est de présenter l'état de l'art sur la décorporation des actinides en milieu biologique, de rappeler les grandes lignes du métabolisme des actinides, de lister les contraintes indispensables actinide–ligands pour la décorporation, de décrire succinctement les principaux outils expérimentaux ou analytiques utilisés, de passer en revue les principaux ligands testés pour les actinides et de présenter les orientations du futur dans ce domaine.
Fichier principal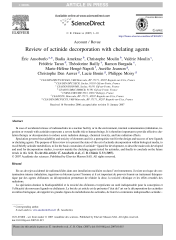 2007_CRAS2007_decorpo (1).pdf (265.61 Ko)
Télécharger le fichier
Origin : Publisher files allowed on an open archive