STeP : AN INNOVATIVE TELEOPERATION SYSTEM FOR DECOMMISSIONING OPERATIONS
Decommissioning tasks in laboratories or interim storage facilities may be complicated by poor accessibility and by the diversity of operations that must be carried out. This is particularly true of waste storage shafts that are often accessible only from above and are relatively limited in size compared with existing intervention systems. This article describes the issues involved and the studies that have been carried out to develop a force-feedback Shaft Teleoperation system (STeP). Following a discussion of a range of possible concepts and of the preliminary tests carried out to define the system architecture and functions, the specifications and expected performance of the specially developed master-slave system are described. An example of a waste retrieval application is then presented with emphasis on the tools used and the full-scale mockup that will be built.
RÉSUMÉ Les tâches d'assainissement dans les laboratoires ou les installations d'entreposage sont parfois rendues délicates par le manque d'accessibilité ou la diversité des actions à mener. C'est le cas notamment des puits d'entreposage de déchets qui ne possèdent souvent qu'un accès par le dessus et dont la dimension peut être assez faible au regard des équipements d'intervention existants. Cet article décrit la problématique et les études qui ont été menées pour la réalisation d'un Système de Téléopération en Puits (STeP) à retour d'effort. Dans un premier temps sont abordés les différents concepts possibles et les essais préliminaires ayant permis de définir l'architecture et les fonctionnalités du système. Les spécifications et les performances attendues du système maître-esclave développé spécialement sont ensuite décrites. Un exemple d'application concernant la reprise de déchets est finalement présenté en insistant plus particulièrement sur les outils utilisés et le maquettage préalable à échelle 1 qui sera mené.
Fichier principal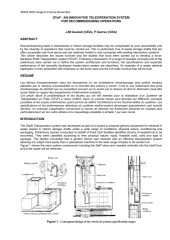 ANINNOVATIVE TELEOPERATIONSYSTEM.pdf (2.91 Mo)
Télécharger le fichier
Origin : Publisher files allowed on an open archive