Exploring the landscape of heterotic string compactifications
Explorando el paisaje de las compacticaciones de la cuerda heterótica
Explorant le paysage des compactifications de la corde hétérotique
The main goal of this thesis is to study the moduli space of a broad set of compactifications of heterotic string theory and, in particular, to find and classify the list of gauge groups that are realized in such theories. We start by analyzing the case of circle compactifications, developing a technique to compute and represent the regions of enhancement on the moduli space. Using lattice embedding techniques, we state general criteria to establish whether a gauge group is realized or not on compactifications on Tᵈ, creating a series of algorithms to completely explore these moduli spaces. For d=2, we find that the respective gauge groups coincide with all possible singular fibers of extremal K3 surfaces, corroborating the duality with F-theory on a K3 surface. We also construct a method to transform the moduli under T-duality and build the map that relates the moduli of the E₈ x E₈ and SO(32) heterotic strings on a torus. We also analyse compactifications of the heterotic string on Tᵈ/ℤ₂ asymmetric orbifolds which realize the so-called CHL string. This is of interest because the d=2 and d=3 cases are dual respectively to F-theory and M-theory on a K3 with a frozen singularity, which are not well understood. We study in detail these theories and, with some modifications to our algorithms, explore and find all the symmetry enhancements, verifying that they satisfy a condition for anomaly-free one-form center brought to light very recently. Finally, we obtain the complete list of gauge groups that are realized in the heterotic string in 7d and 6d, including the ordinary toroidal compactifications, the CHL and four other components realized via nontrivial holonomy triples. We derive a map that relates the gauge groups on the toroidal compactifications to the other components. In 7d, it coincides with the singularity freezing mechanism in M-theory on K3; while in 6d we show that the possible freezings for each gauge group are determined by its topology.
El objetivo principal de la presente tesis es estudiar el espacio de módulos de un amplio conjunto de compactificaciones de la teoría de cuerdas heterótica y, en particular, encontrar y clasificar la lista de grupos de calibre que se realizan en dichas teorías. Comenzamos analizando el caso de las compactificaciones circulares, desarrollando una técnica para calcular y representar las regiones de aumento en el espacio de módulos. Usando técnicas de encajes de látices, enunciamos criterios generales para establecer si un grupo de calibre se realiza o no en Tᵈ, creando una serie de algoritmos para explorar completamente estos espacios de módulos. Para d=2, encontramos que los respectivos grupos de calibre coinciden con todas las posibles fibras singulares de las superficies extremas K3, lo que corrobora la dualidad con la teoría F en una superficie K3. También construimos un método para transformar los módulos bajo T-dualidad y construimos el mapa que relaciona los módulos de las teorías heteróticas E₈ x E₈ y SO(32) en un toro. También analizamos las compactificaciones de la cuerda heterótica en orbifolds asimétricos Tᵈ/ℤ₂ que realizan la llamada cuerda CHL. Esto es de interés porque los casos d=2 y d=3 son duales respectivamente a la teoría F y la teoría M en un K3 con una singularidad congelada, que no están bien entendidos. Estudiamos en detalle estas teorías y, con algunas modificaciones a nuestros algoritmos, exploramos y encontramos todos los aumentos de simetría, verificando que satisfacen una condición de centro sin anomalías descubierta muy recientemente. Finalmente, obtenemos la lista completa de grupos de gauge que se realizan en la cuerda heterótica en 7d y 6d, incluyendo las compactificaciones toroidales ordinarias, la CHL y otras cuatro componentes realizadas mediante triples de holonomía no triviales. Derivamos un mapa que relaciona los grupos de calibre en las compactificaciones toroidales con las otras componentes. En 7d, coincide con el mecanismo de congelamiento de singularidades en la teoría M en K3; mientras que en 6d mostramos que los posibles congelamientos para cada grupo de calibre están determinados por su topología.
L'objectif principal de cette thèse est d'étudier l'espace des modules d'un large ensemble de compactifications de la théorie des cordes hétérotiques et, en particulier, de trouver et classer la liste des groupes de jauge qui sont réalisés dans de telles théories. Nous commençons par analyser le cas des compactifications sur un cercle, en développant une technique pour calculer et représenter les régions dans l'espace des modules où il y a des groupes augmentés de symétrie. A l'aide des techniques des réseaux, nous énonçons des critères généraux pour établir si un groupe de jauge est réalisé ou non dans les compactifications sur Tᵈ, créant une série d'algorithmes pour explorer complètement ces espaces de modules. Pour d=2, on trouve que les groupes de jauge respectifs coïncident avec toutes les fibres singulières possibles des surfaces extrêmes K3, corroborant la dualité avec théorie F sur une surface K3. Nous construisons également une méthode pour transformer les modules sous T-dualité et construisons la carte qui relie les modules des cordes hétérotiques E₈ x E₈ et SO(32) sur un tore. Nous analysons également les compactifications de la corde hétérotique sur les orbifolds asymétriques Tᵈ/ℤ₂ qui réalisent la dite corde CHL. Ceci est particulièrement intéressant car les cas d=2 et d=3 sont duaux respectivement de la théorie F et de la théorie M sur un K3 à singularité figée, qui ne sont pas bien compris. Nous étudions en détail ces théories et, avec quelques modifications à nos algorithmes, explorons et trouvons tous les groupes de symétrie, vérifiant qu'ils satisfont une condition de centre sans anomalie découverte très récemment. Enfin, nous obtenons la liste complète des groupes de jauge qui sont réalisés dans la corde hétérotique en 7d et 6d, y compris les compactifications toroïdales ordinaires, le CHL et quatre autres composants réalisés via des triplets d'holonomie non triviaux. Nous dérivons une carte qui relie les groupes de jauge sur le compactifications toroïdales aux autres composants. En 7d, il coïncide avec le mécanisme de gel des singularités en théorie M sur K3; tandis qu'en 6d on montre que les gels possibles pour chaque groupe de jauge sont déterminés par sa topologie.
Fichier principal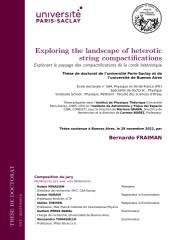 106696_FRAIMAN_2022_archivage.pdf (6.95 Mo)
Télécharger le fichier
Origin : Version validated by the jury (STAR)